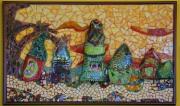 An advocate for the merit of divergent thinking and the joyful pleasure of artistic expression, Ursula is living her dream.
Through the use of Mosaics, Ursula captures the magic of movement, light, colour and texture in each unique creation. Ursula's exploration of the ancient art of mosaics, stems from a lifetime of viewing the world through creative eyes. Through years of study and application Ursula's work transcends through various materials she utilizes in her Art. Ursula's work is diverse in style but is consistent in her use of vibrant colours.
Community development is a passion of Ursula's. From leading people touched with addiction and mental illness through Community Murals, to bringing knowledge, creativity and beauty to young and old alike through workshops. As part of the St. James School division Integrated Curriculum Ursula enhances children's learning through the Arts.
Contact Ursula and explore your very own custom mosaic piece!
Ursula Neufeld can be contacted at neufeldu@mts.net